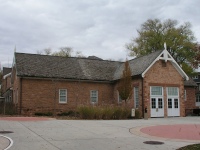 Officers' Club
(breakout sessions)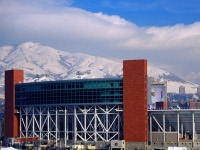 Rice-Eccles Stadium Tower
(demo session and reception)
The sessions on Monday afternoon run from 1:00 to 5:00 in the Fort Douglas section of the University of Utah campus. Registration and cluster breakout sessions are in the Officers' Club building, and other sessions are in nearby buildings. Lunch is available at several locations on the way up to campus, and at a cafeteria in the Heritage Commons, a short walk from the Officers' Club. See the map for more details.
The evening reception and demo session will run from 5:30 to 8:30 at the Rice-Eccles Stadium tower, across campus from the Officers' Club. Entrances to the tower are on the west (downhill) side of the stadium. The reception will be held on the foruth floor.
Driving Directions
The drive up to the University from the hotel takes around 15 minutes, and the drive between the two locations on the University campus (Officers' Club and Stadium Tower) takes 5-10 minutes, depending on traffic.
NOTE: The street listed as "Wasatch Drive" in Google's directions has been renamed "Mario Capecchi Drive." Google's directions also add extra directional identifiers before street names that you won't find on street signs: for example, what Google maps labels as "E 400 South" will be simply signed "400 South".
Parking Information
See the GEC map or campus parking map.
Officers Club:There is a parking lot behind the Officers' club. The entrace to this lot is right next to the building. A permit is required to park in the lot; passes will be available at the registration desk.
Stadium: There is a large parking lot directly adjacent to the stadium tower. Parking in this lot is free after 4:00 PM. Should you need to park before that time, there are a number of parking meters in the southeast corner of the lot (on the side closest to the stadium, on the right when facing the stadium.)