Torrey's Home Page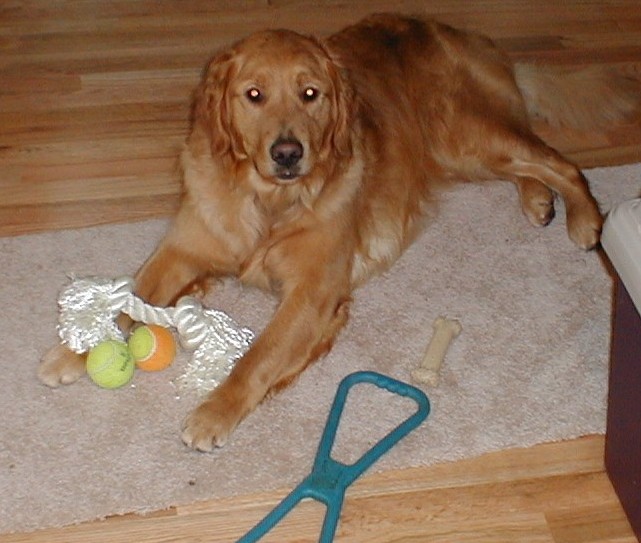 ---
You can also see Torrey pretending to a Guard Dog.
Gina's NewPups Page is here.
This is Torrey, our adopted Golden Retriever. Torrey is male, and 18 months old in the picture above (taken on January 24th, 2000). He came to us by way of Gina at Brier Goldens, a local Golden Retriever breeder who also runs a rescue organization that saves Goldens from bad situations. We met Torrey while we were visiting Gina to see about getting a Puppy from an upcoming litter. Here is the story as told to us by Gina:
Friends of Gina in Vancouver WA called to see if she could help them out with a Golden in need. They had been aware of Torrey for about 6 months, hearing that his family wanted to place the dog but they had taken no action till November 23, calling and saying the dog had to go and had to go that day! Gina'a friends got in their car and drove to West Linn and picked up Torrey and drove him down to Gina during the big Thanksgiving storms; Took about 5 hours to make the drive. Gina happily took Torrey in and set about putting him on a diet, getting him checked out, and making him feel like a Golden Retriever is supposed to feel like (adored).
Well, when Renee and I first met Torrey, he was already scheduled to be adopted. We thought he was a great dog, in spite of the fact that he had not been trained or well socialized at all. It appears he was kept outside and disciplined with a heavy hand. Not abused, but certainly not treated very well. He was very skittish and afraid of new people, barking for a few seconds before coming over to be petted. Still, it was obvious there was a good dog inside, waiting to come out.
About 10 days later, Gina informed us that the original adoption had fallen through. We think the original adopters had not been prepared for the amount of time and energy that Torrey was going to need in the first year. So, Renee and I went up a week later to take him over a Saturday night. By that time Torrey had been with Gina about 6 weeks, and the improvement in his disposition was amazing.
He is a *really* sweet dog, and he won our hearts. He has been a treasure to us since the day he came to stay. As a good golden boy, he loves tennis balls and is perfecting the art of carrying as many as possible, his current maximum is 4. We are taking an obediance class and he is doing really well, much better than we ever expected. He is a hit with the neighborhood kids when we are out on our walk. They all yell "Hi Torrey" and come running over to pet him. He is no longer afraid of people. Torrey was truly a diamond in the rough, and now his beauty shines for everyone to see. We adore him.
A note about his name. Torrey used to be named Alex. We changed his name to Torrey because, according to Renee, a Torrey Pine is a type of coastal pine species that survives in harsh conditions. We figured that was a good match considering the harsh conditions under which Torrey spent the first part of his life.
Here are several more pictures of Torrey.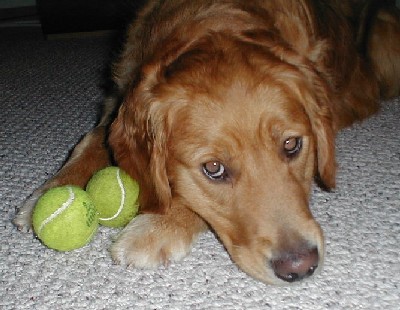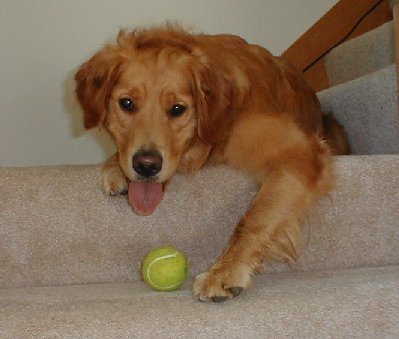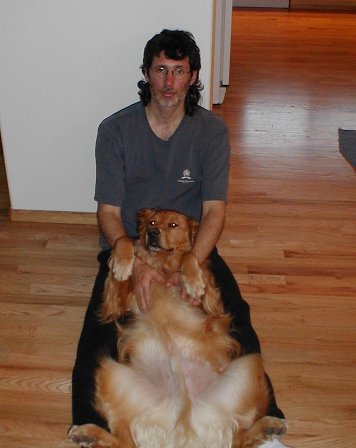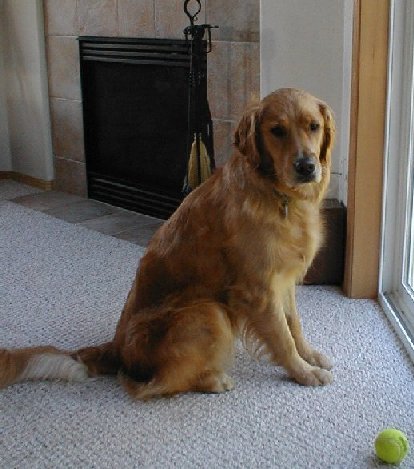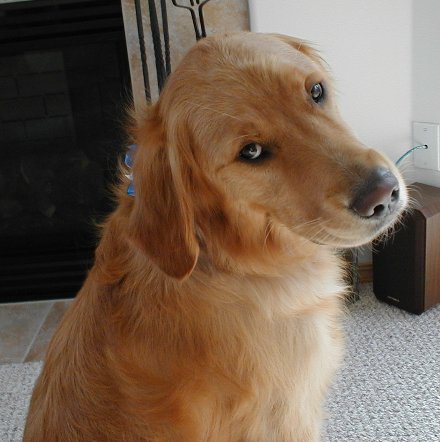 ---
Maple is our latest Golden Retriever. She has her own home page too.

Acer was our first Golden Retriever. He had his own home page too.
---
Leigh B. Stoller <stoller@cs.utah.edu> PGP Public Key