Torrey and Maple's Home Page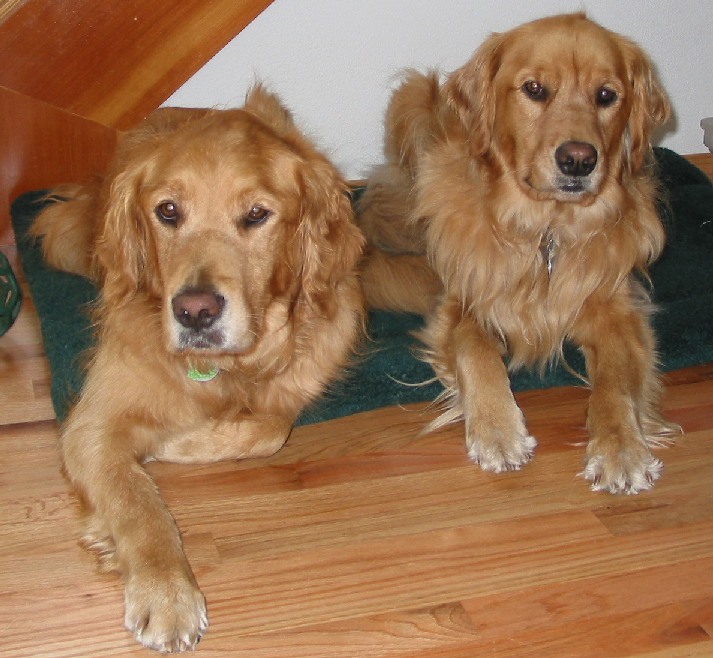 Torrey
&nbsp &nbsp &nbsp &nbsp &nbsp &nbsp &nbsp &nbsp &nbsp &nbsp &nbsp &nbsp &nbsp &nbsp &nbsp &nbsp &nbsp
Miss Maple
December 2004
---
This is Torrey and Maple. Both came to us by way of Gina at Brier Goldens, a local Golden Retriever breeder who also runs a rescue organization that saves Goldens from bad situations. Torrey is our adopted Golden Retriever, and about 6 years old in the picture above (taken on December 8th, 2004). We met Torrey while we were visiting Gina to see about getting a Puppy from an upcoming litter. That upcoming litter produced Brier's Moonlight Maple (we call her Miss Maple), born on March 31, 2000. Torrey and Maple have been inseparable since we brought Missy home, and as a puppy Maple was quite cute and liked to take Torrey's toys away from him. Torrey and Maple are wonderful dogs, and we can only hope that Gina is still breeding Golden Retrievers when it comes time to add a new family member!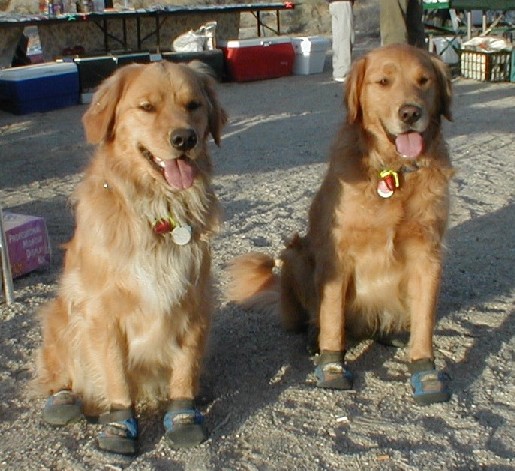 The above picture was taken in the desert outside Laughlin Nevada during our Thanksgiving 2001 roadtrip. After one day in the desert both dogs had very raw paws and were moving very slowly. Fortunately we were prepared, and had brought Bark N' Boots for them. The large size worked great for both Torrey and Maple, and for the rest of the trip Torrey was the happiest we have ever seen him. Missy was fine until she got bored, at which point she would turn her attention to trying to get them off.
Here are some other recent pictures:
Acer was our first Golden Retriever. He had his own home page too.
---
Leigh B. Stoller <stoller@cs.utah.edu> PGP Public Key