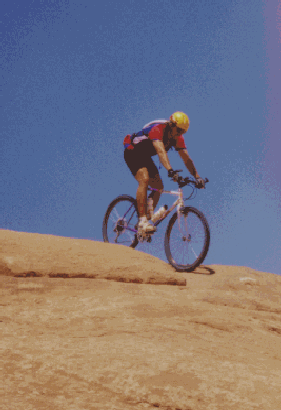 What I do for fun
Obligatory Moab picture.
1996 Moab pictures.
During the spring/summer/fall I ride my mountain bike. I am slowing compiling a page of interesting dirt rides. In past years (before becoming a dirt dog) I also spent a lot of time riding my bike up various paved local canyons. I also have a page of local canyon rides.
During the winter, I work a lot and think about riding my mountain bike.
Like many people, I spend an inordinate amount of time producing Web pages of dubious value. For examples see the aforementioned mountain bike pages and active map of our machine room.
In my much younger days I rode skateboards, played hacky sack and Ultimate.
---
Mike Hibler <mike@cs.utah.edu>