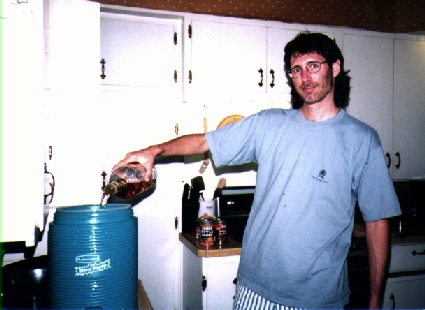 Thats me, making Margaritas!
(Bar cartoon courtesy of www.cuervo.com)
---
Here is The Recipe
Mix 3 parts lemonade to 1 part orange juice. I do not add as much water as the lemonade can says; maybe about 80 percent. I use Minutemaid cause I think it tastes better than most.
Lots of fresh squeezed limes. Limes from a can taste terrible. My 2 gallon batches usually have about a dozen good sized limes squeezed in.
Lots of Tequila. My really potent batches are about 1 ounce of Tequila for every 6-7 ounces of mix.
Serve over cubed ice, not as a slurpee!
Drink! You probably want to avoid driving after your second.
---
Leigh B. Stoller <stoller@cs.utah.edu> PGP Public Key