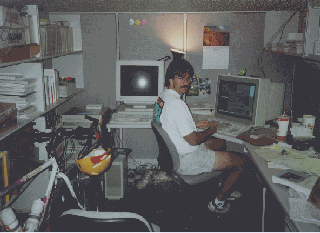 Professional Activities
My cubicle in its natural state (cluttered).
My research interests include operating system design and implementation. Funded work is mostly on Mach4 and the Lites BSD server.
I still occasionally hack HPBSD (our 4.3/4.4 BSD hybrid for HP 68k and PA-RISC machines) and help Berkeley with the never-ending 4.4BSD work.
I have had a brief fling with ATM and am interested in high-speed networking.
Finally, I keep track of the various machines in the CSL computing facility.
---
Mike Hibler <mike@cs.utah.edu>