---
---
Behind the medical center complex there is a well-known trail traversing the foothills of Mt. Van Cott from Dry Creek on the north to Red Butte Canyon on the south. There are actually a series of trails, but I refer to the ``upper'' here. You can take this trail in either direction though I find it slightly more interesting going from south to north. It is a relatively easy ride used most often as a connection between the ``U'' (or Dry Creek) and

Miles   Elev.  Landmark             Latitude, Longitude
 0.0    5020   Driveway
 ?.?    5190   Top of first hill
 ?.?    5160   Top of downhill
 ?.?    5030   Pipeline road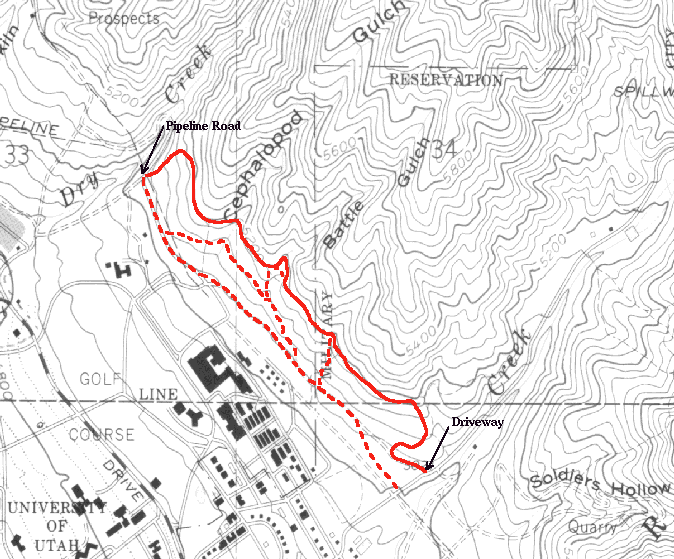 From Fort Douglas Quadrangle (Utah) 7.5 minute topo map
There is one other complete north to south trail which stays just above the parking lots. It is a fast, smooth ride. You can pick this up on the north from the northeast corner of the Moran Eye Center parking lot or on the south just opposite the Red Butte entrance.

There is a partial mid-level trail which makes a nice north to south route when coming back along the pipeline road. Shortly before reaching the pavement, there will be a heavily used trail branching off on the left. Take this trail and stay left the couple of times you come to a fork in the trail (the right branches head down to the parking lot). After a minor technical crossing of Cephalopod Gulch you will continue south til you run into a two foot high wall across the trail. Maybe some people can ride over or around it, but I just get off the bike and step over it. Fifty feet or so past that you meet up with a jeep road coming down from the upper trail. Following along that road you cross a number of speed bump type ridges in the road and eventually meet up with the lower trail. From there you continue on to the Red Butte road.

There are at least two places you can drop from the upper trail down to the middle or lower trails when heading north to south. The first, is just as you reach Battle Gulch. The other is just as you bottom out on the third gulch crossing. Either is an interesting variation for the return of an out and back from the Red Butte road.
---
Mike Hibler <mike@cs.utah.edu>