Parents Greet New Year With State's 1st Child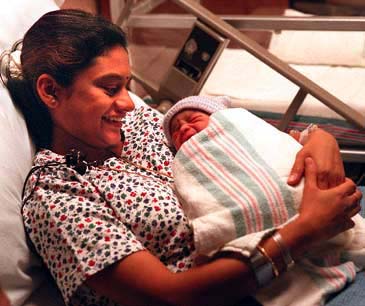 Suma Kuramkote holds Shyamanth, born early New Year's morning at University Hospital in Salt Lake City. Shyamanth was the first infant born in Utah in 1998. (Rick Egan/ The Salt Lake Tribune)

BY PEGGY FLETCHER STACK
THE SALT LAKE TRIBUNE


As evidence of Utah's growing diversity, the first child born here in 1998 will have dual citizenship in the United States and India.
Shyamanth Kuramkote was born at the University Hospital in Salt Lake City at 12:13 a.m. on Thursday, Jan. 1. He weighed 6 lbs, 5 oz. and was 19 inches long.
His parents, Suma and Ravi Kuramkote, live in University Village in Salt Lake City, but they hail from southern India. She is a physician doing research in anesthesiology, while he is working toward his doctorate in computer science at the University of Utah.
Although the couple's first child was not due until Jan. 10, Suma Kuramkote went into labor and entered the hospital at 4 p.m. on New Year's Eve. At 9 p.m. the birth seemed imminent, and Suma Kuramkote said her husband was expecting a ``nice tax deduction.''
``But I had an intuition that he would be born in 1998,'' she said from her hospital bed Thursday. ``He obviously didn't want to come in 1997.''
Because of the baby's position, doctors had to assist his birth with forceps. Otherwise, the labor and delivery went smoothly, the mother said.
The family has other explanations for the date of birth.
He may have wanted to share a birthday with his father, Ravi, who also was born on Jan. 1., said Suma Kuramkote.
And Suma's brother, Bhyrav Kumar, also a University of Utah student, had just returned from a trip to Dallas when he heard his sister was in labor.
``I am so excited,'' Kumar said, sitting by his new nephew's hospital bed. ``I feel as if he was waiting for me to come back.''
Following the Hindu custom, the Kuramkotes had an arranged marriage four years ago.
``We met about a month before the wedding and talked together for a total of about six hours before accepting the arrangement,'' said Ravi Kuramkote.
The Hindu religion practices numerous ceremonies marking events in a child's first year. When a mother first lays her child in his or her crib, she should move a stone under the crib as a protection and blessing. The baby should be taken to a Hindu temple and blessed by a priest. And there is an important naming ceremony at three months, before which time a child need not have a formal name.
But shortly after he was born, these Americanized parents chose the name, Shyamanth, which means, ``end of darkness.''
``We felt strongly that that should be his name,'' they said.